Does this sound familiar?
Important company data is spread across different systems, databases or spreadsheets
Your business has growing amounts of valuable data stored in databases but it is often difficult to access. It can take hours or even days to extract, analyze and prepare reports. By the time it is ready to use, it's out of date. Key stakeholders are forced to wait or risk making decisions based on guesswork instead of facts.
Visibility is poor: It's difficult to predict sales and forecasts with accuracy
When leaders have cloudy visibility into sales processes, forecasts, customer requests, operations or finances, it's difficult to plan and work proactively. Where should you focus your efforts? How can you best guide your team? A high degree of uncertainty, increases risk and reduces the chance of success.
You want to keep everyone focused and motivated
When there is a lot happening across different parts of the organisation, it is difficult to keep track of all the bits and pieces. One department might paint one picture of what's happening, while another paints a different picture. You need clear, objective facts about business performance to manage processes and make decisions.
Get the BENEFITS of Business IntelliGence
House of Control is proud to be able to offer Business Analyze, a complete, all-in-one Business Intelligence solution.
Business Analyze enables you to gather, analyze and report on data with ease. From role-based dashboards, everyone in the organisation can explore data and review reports as needed.
With business intelligence you can:
Get a 360-degree view of customers – easily analyze CRM, ERP and other data in one place without spreadsheet-frustration

Track KPIs (key performance indicators) - get up-to-the hour insights about activities, projects, cashflow, and operations from interactive dashboards

Gain deep insight into sales and improve forecasting – provides leadership teams with detailed views of lead to cash processes

Analyze data with ease – sort, filter, segment, and pivot data to quickly find answers to important questions

Drive sales performance and organize contests –set goals, run friendly competitions and automatically share progress updates on Business Analyze scoreboards

Automate reporting - save time and automate weekly, monthly or quarterly reports
BUSINESS ANALYZE MAKES IT EASY
Business Analyze is designed for organisations of all sizes and industries. This modern cloud business intelligence software pulls data from your CRM, ERP or other company databases, and presents key figures and reports on interactive dashboards. Executive teams, managers, key decision-makers and analysts like how easy it use to use Business Analyze.
Key features
Monitor KPIs and metrics for sales, finance, service and more
Track key processes, activities and trends
Compare, sort and filter data in a few seconds
Automatically generate daily, weekly, monthly reports
Easily share visual reports
Build custom dashboards
Easy to implement
Connects with wide range of ERP systems, Excel, and in-house databases
Data experts to support you at every stage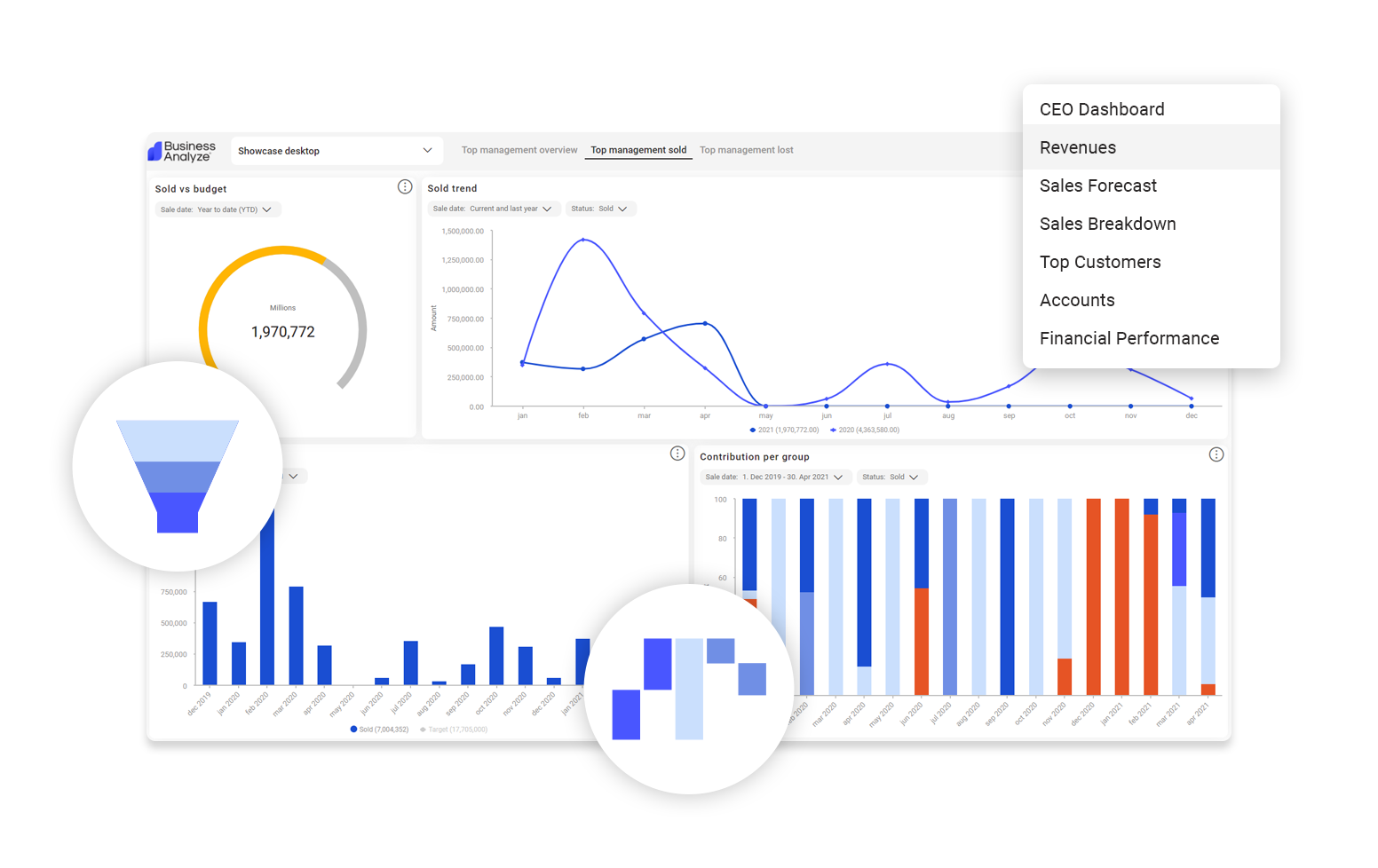 Do you Use superoffice CRM?
Reporting and analytics is one of the most important functions of a CRM system but sometimes a CRM system alone does not provide the right view of data.
Data may be spread across several databases or on the wrong level of detail. Your current dashboards may have limited customisation options.
Business Analyze solves complex requirements and provides advanced reporting functions. This enables the entire organisation and key external stakeholders to securely access SuperOffice data in a rich, visual format.