Who has the authority to make the decision?
Who has the license to approve and sign contracts in your organization? If your auditor asks why a colleague has approved an amount above her or his limit, how do you prove that you granted the permission – temporarily or permanently?
The documentation of the company's authority matrix is essential to the internal control within all businesses as it defines the financial and administrative responsibilities and authorities delegated to those in charge of approving the decisions and transactions within the business.
And who has the authority to handle all the non-accounting issues? For example, questions from the press, IT security revisions, GDPR documents, M&A, hiring and salaries? The list goes on and on.
How does your organization manage its authority matrix? Is it a static document stored in a folder – like 19 out of 20 organizations?
Wouldn't it be better to have a digital financial delegation of authority matrix, where status can be changed by a few clicks – and easily accessed by everyone whenever they need it?
a smarter authority matrix that benefits the CFO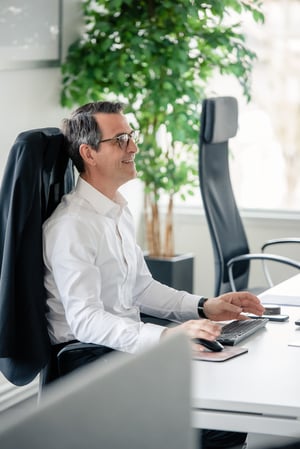 A clearly defined hierarchy creates a path of accountability for every project and activity within the company. A hierarchy helps to establish efficient communication paths between employees, departments and divisions of the company.
The CFO is often the person responsible for ensuring authorities are established, communicated, understood and adhered to – especially when financial activities are involved. Without the establishment of clear authority levels and approval matrix within the organization, often no-one is certain who can or cannot approve any given task or activity which leads to inefficiency, uncertainty, and potentially costly errors – all of which create unnecessary risk.
As the CFO's best friend, House of Control has developed a powerful and user-friendly solution to this problem as part of the Complete Control product range.


By digitalizing the company's authority matrix, we help you establish the respective authority levels of every employee – through a user-friendly cloud application that is available to everyone. The application shows who has the authority to do what and provides a log and searchable history of all authority level changes.

This easy ability to manage and document the authority matrix makes it an essential tool for the effective governance and compliance within the business. For example, an accounts receivable associate reports to an accounting manager, who reports to the CFO. If the accounts receivable system is consistently reporting erroneous information, you can then follow the hierarchy of authority to determine who is responsible for the errors.
Our Authority Matrix professionalizes your business - and it's available now. Book at demo today and see it for yourself!
Interested in IFRS1 6 lease accounting as well? House of Control offers one of Europes leading software platform that makes IFRS 16 compliance easy and efficient - and improves contract lifecycle management.
Features of the Authority Matrix
Easy to use template approach for the allocation of various 'powers of attorney' to new and existing employees

At-a-glance visualization of the proxy matrix (authority level organigram)

More flexibility to define authority processes and workflows

More opportunity for administrators to follow and reinforce the required processes and follow-up people who deviate from it.

Audit management of proxy definitions

Includes simplified update / acceptance of granted authorizations in the event of a new revision

Multiple level of definitions / grouping
Notice / overview of former employees who are still authorized

Better visual overview of departments and cost centers to which a power of attorney has been granted.

Administrators are able to assign a power of attorney at a given level and at the same time prevent delegation of authority matrix.

Possibility to revoke all proxies of a given type / level with custom message to proxies

More transparency, including changes in delegated authority

Opportunity to upload attachments to an assigned power of authority to increase documentation and transparency
Every success, every mishap, every opportunity seized or missed is the result of a decision that someone made or failed to make. At many companies, decisions routinely get stuck inside the organization. Never mind what industry you're in, how big and well known your company may be, or how clever your strategy is. If you can't make the right decisions quickly and effectively, and execute those decisions consistently, your business will lose ground. Indeed, making good decisions and making them happen quickly are the hallmarks of high-performing organizations.