About house of control
House of Control Group is a tech company that develops software as a service (SaaS) solutions for contract management and IFRS 16 compliance (Lease Accounting).
Our Software-as-a-Service solutions solves important, time-consuming, and professionally challenging work for the CFO and finance department.
The CFO and the finance departments of medium-sized and large companies are our main target groups, and our software helps them improve financial and operational management.
Private and public enterprises use our software to manage contracts and assets, communicate with suppliers, and get a faster overview over their business via dashboards.


Cut costs, save time, reduce risk, and improve compliance – all key ingredients of a better-working finance department.
Today, House of Control Group has 2700+ customers, with thousands of users worldwide.
NOW part of the Visma family

Our values
At House of Control, we believe in the power of the Yes-team and positivity, continuous growth, the power of action, and confidence. These values form the backbone of our unique corporate culture.


Yes-Team!
We are the "Yes-Team." In every interaction—whether it's with customers, colleagues, or partners—we approach with openness and a willingness to help. Everyone has a voice here, and we encourage everyone to use it to strengthen us as a team and as an organization.
Growth
Growth is more than a goal; it's a lifestyle. Our winning culture is fueled by unwavering confidence and passion for what we do. It's not just about the success of the company; it's also about personal and professional development for each of us.
Power of Action
We understand that growth requires action. That's why we're not afraid to take the initiative. With the "Power of Action" as our mantra, we test new ideas, adjust our course, and continually learn, always aiming to maximize value for our customers.
Confidence
None of this would be possible without confidence. We take our responsibilities seriously, whether it's in the realms of safety, sustainability, or diversity. We create an atmosphere where every individual employee can feel confident enough to be themselves and to speak their minds.
In sum, our values are more than just words on paper. They are our compass, our identity, and the foundation that helps us build a better future—together.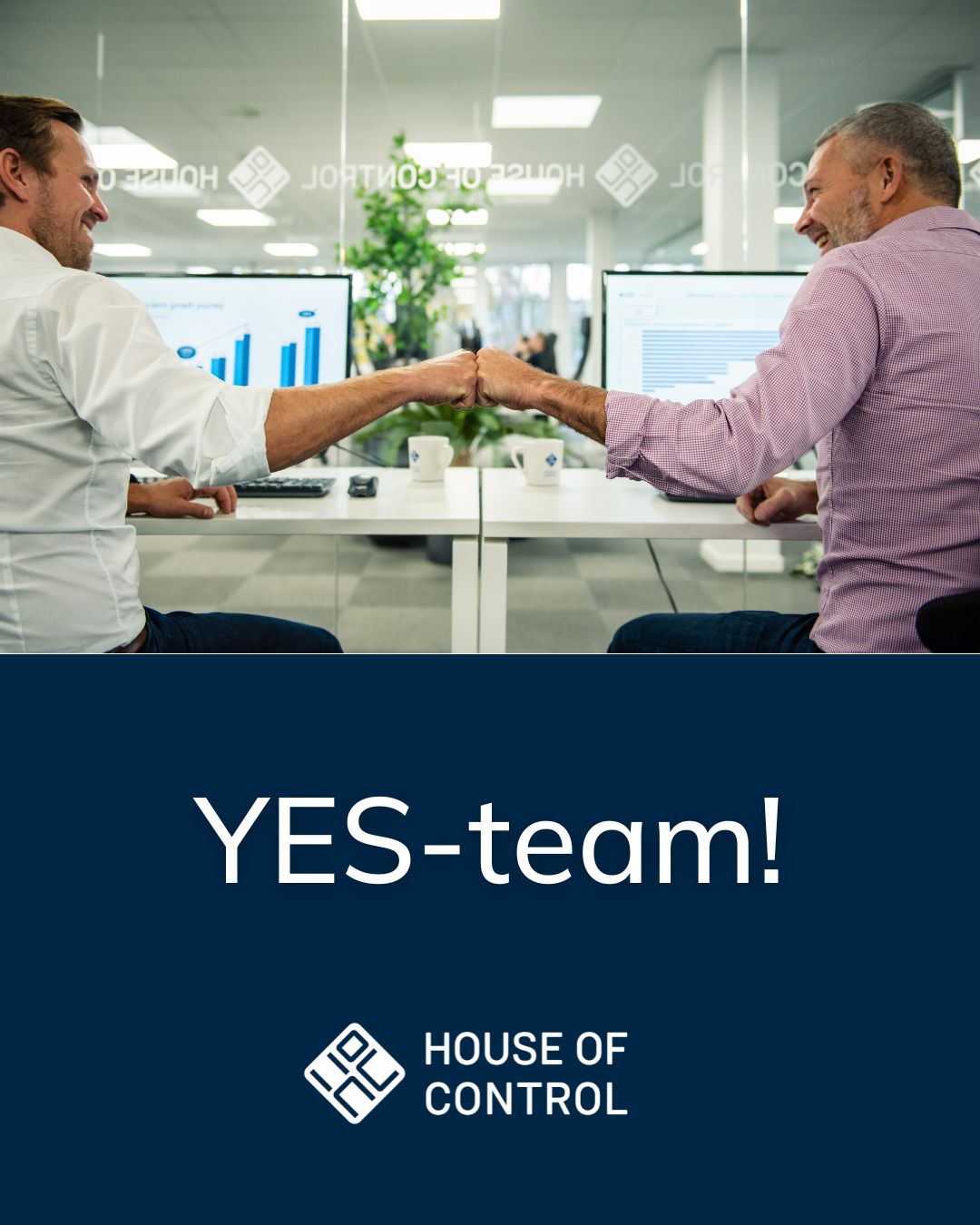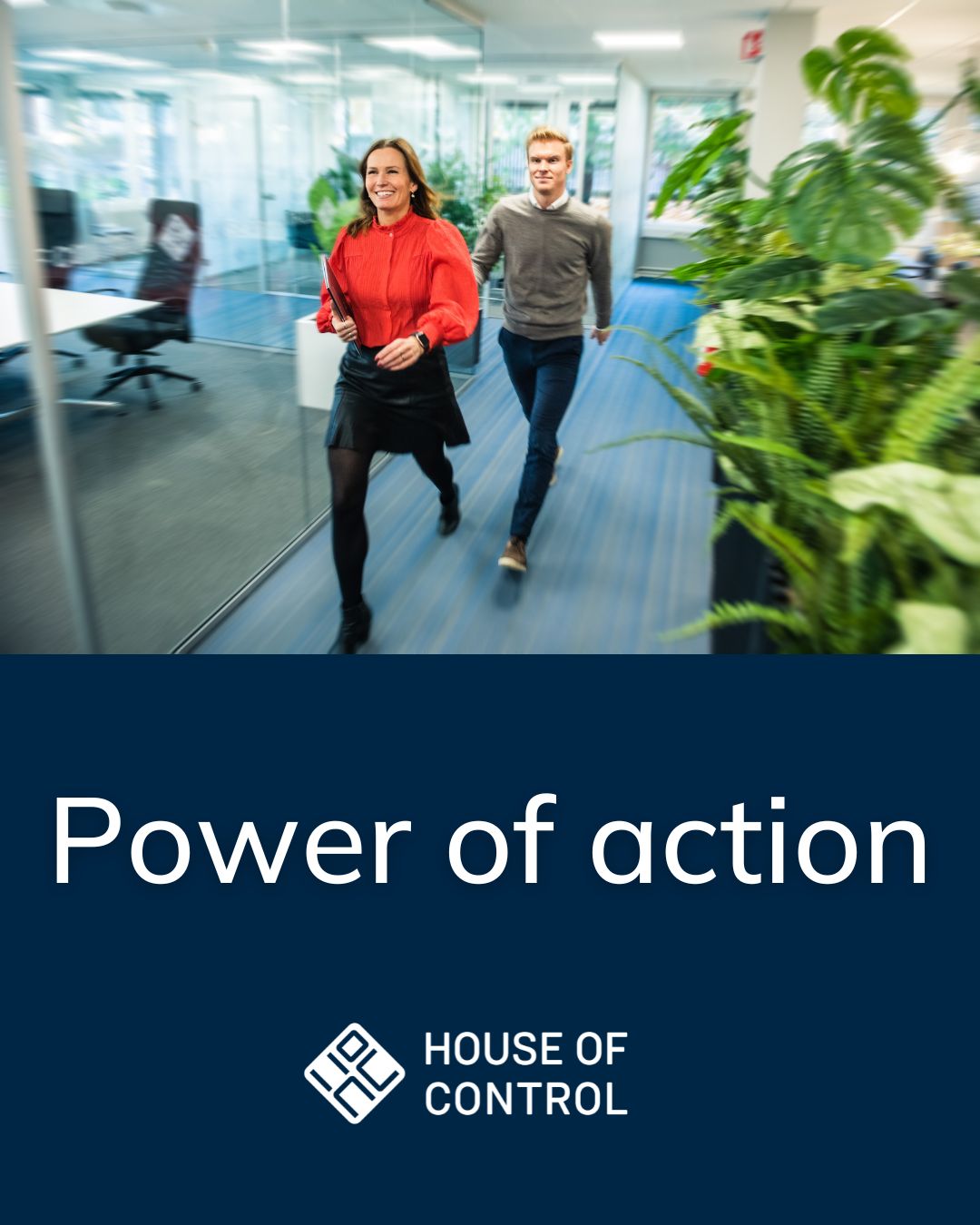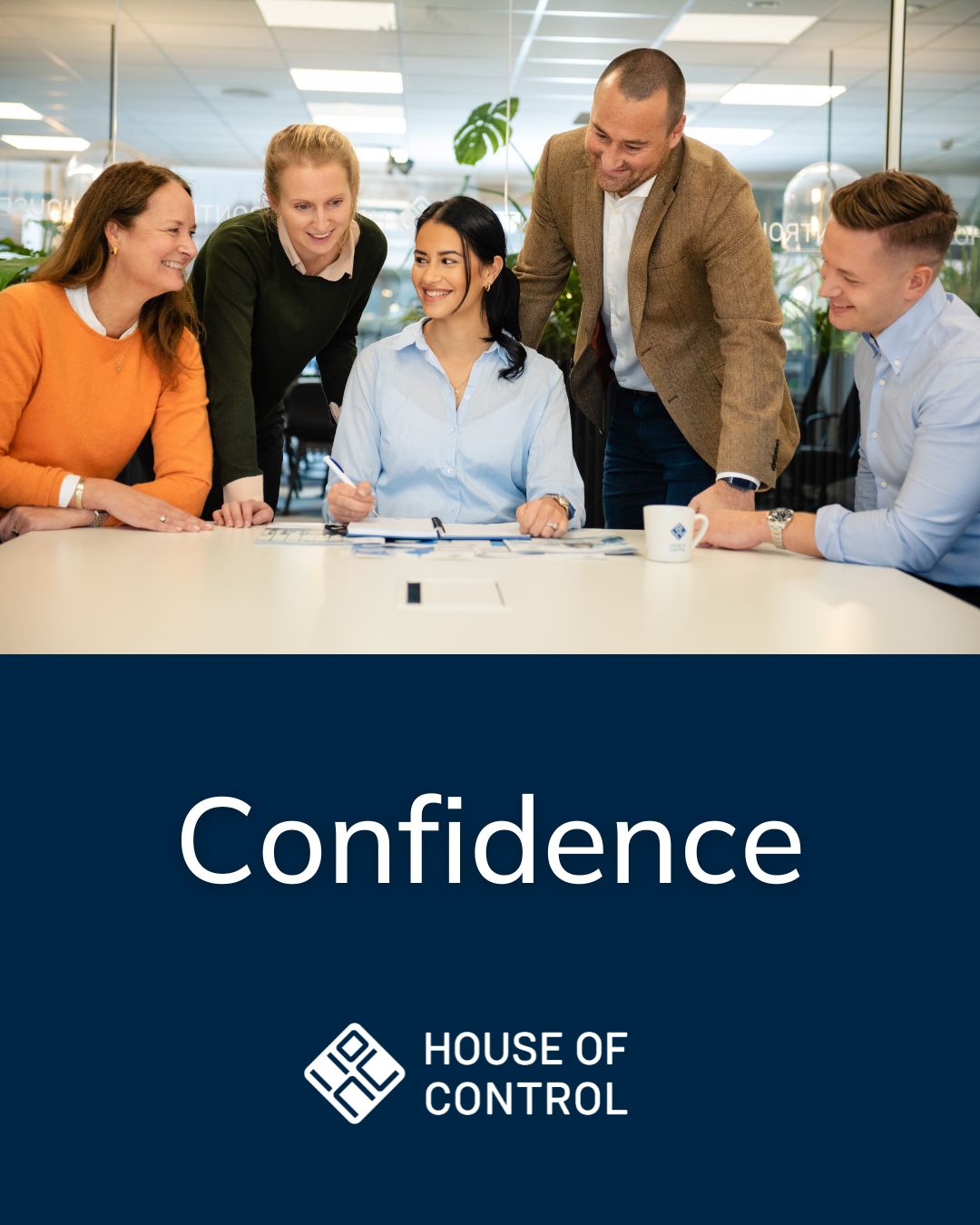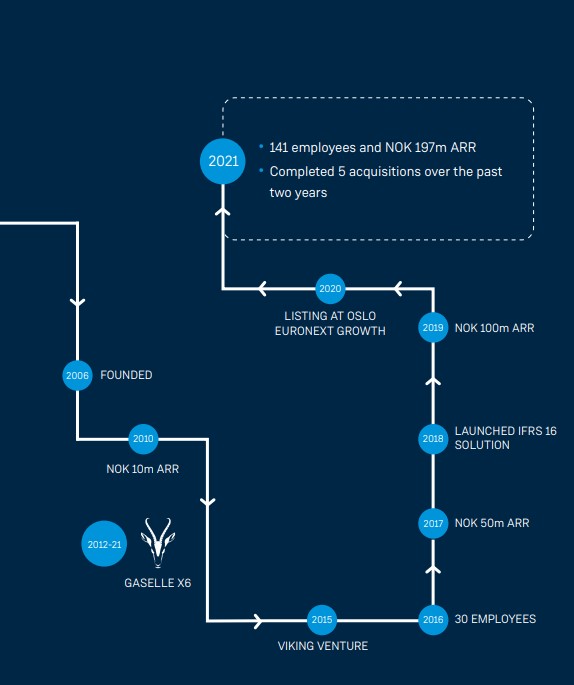 The history in a nutshell
What was stolen? This is what the insurance company asked Lasse Sten when the then managing director of a computer equipment distributor reported a break-in at his office in Oslo.
He and his colleagues quite simply could not present a valid list of what was missing, let alone provide key data such as the model name, purchase price and age.
Sten, who had already founded multiple companies, quickly realised that this problem wasn't unique to them. The idea was born: Security labels linked to a digital register containing key information such as prices, serial numbers, expiry dates, users and other important documentation.
The solutions were positively received by the market. And the customers did more than use the security labels; they asked questions and made suggestions. "Couldn't this digital register also be used to give us an overview of bigger things like our ongoing contracts with suppliers and customers?"
Of course, the answer was yes. This customer engagement set off a spiral of customer-driven innovation and technological development that defines House of Control to this day. It soon became clear that the tool helped users to cut out non-essential supplies, learn when contracts were due to expire and automatically renew, remove dependency on key personnel and budget more quickly and accurately.
When the investors in Viking Venture acquired a majority stake in House of Control in 2015, it gave the company further momentum: Professionalization of management, better organisation of the business, a renewed focus on customer satisfaction, and greater financial resources for expansion into new markets.
In the fall of 2022, House of Control Group was acquired by Visma, Europe's leading provider of core business software.
We are now an independent business in the Visma family.
Why our Nordic roots matter
We believe that our home markets in Norway, Sweden and Denmark are ideal laboratories for Complete Control.
To begin with, the Nordic countries have several characteristics that set them apart from many other parts of the world. Among these, the region has some of the world's highest cost of employment along with a unique degree economic equality. This makes efficiency and effectiveness paramount: Keep the use of man hours at a minimum and trust highly educated people to do the work right.
From this point of departure, private and public organizations have sped up and strengthened digitization and the focus on core activities. One consequence is a relatively high degree of outsourcing and use of subcontractors. In addition, Nordic employees are independent women and men, so these contracts are often signed by a high number of people at multiple levels and departments.
All this can easily lead to higher degrees of business risk due to dependency on key personnel – and costs you don't really need. Also, the CFO and her/his team often use too much time pairing bills and contracts, and too much time reporting future cash-flows and budgeting.
So far, approximately 3,000 customers throughout the region uses Complete Control to overcome the challenges posed by a growing number of contracts. They tell us they save time, reduces risk and cut costs.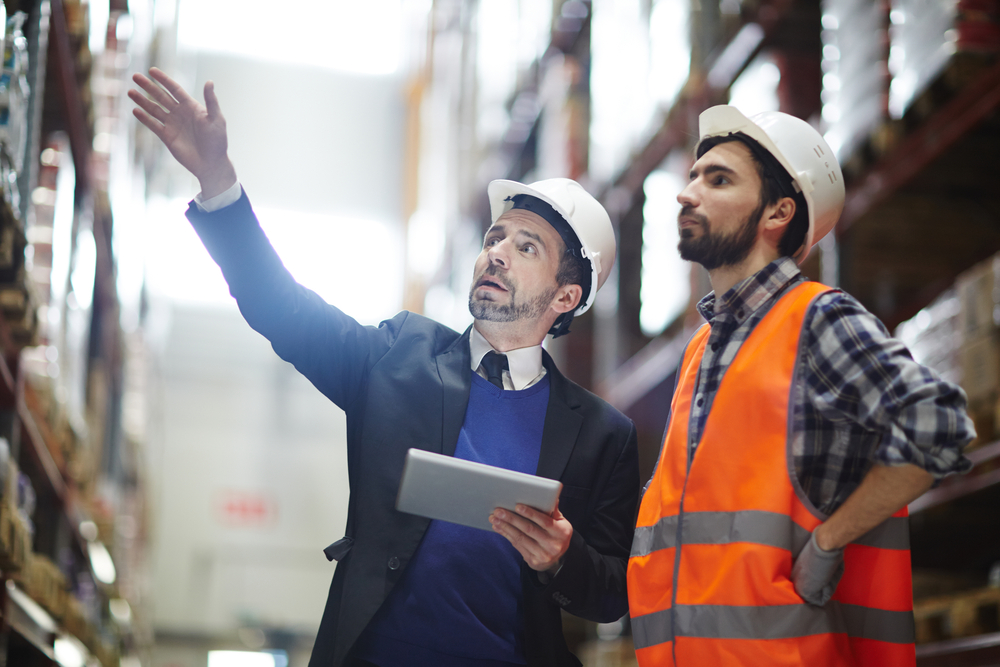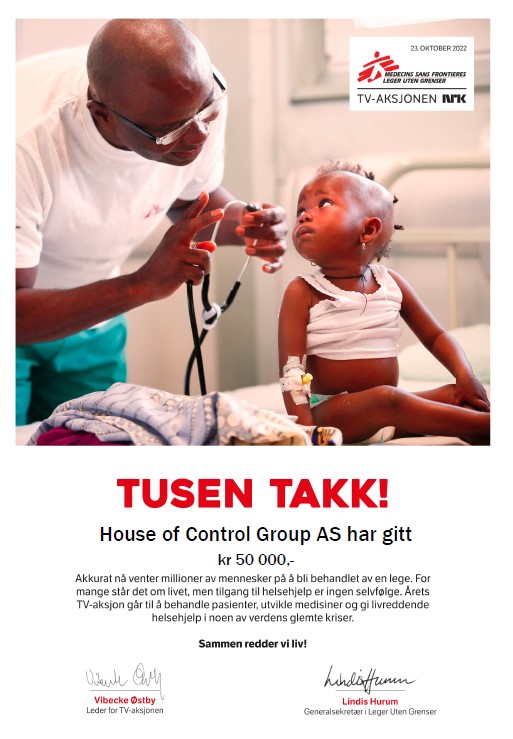 Corporate social responsibility
The culture at House of Control is unique. Here we are free to speak our minds, we can make decisions quickly, we work harder than most, and - not least - we laugh a lot and have a good time together.

We wish everyone had the same opportunities as us. Unfortunately, this is not the case, not everyone has good enough conditions, and we can not solve all the world's problems. That is why, for example, we support the Norwegian TV campaign, and we stand wholeheartedly behind the 2021 campaign's work.

At House of Control, we are convinced that «lean is green». When our customers use our solutions, they indirectly contribute to reduced resource use and climate footprint. Better contract management, better purchasing, better budgeting - these are things that can lead to the company contributing less to global emissions.

Every time a company that uses Complete Control decides not to rent new equipment or to terminate a service, this customer helps to reduce global climate emissions and the consumption of the world's resources.

A rule of thumb based on the experience of our customers is that they can reduce other operating costs by 10 percent on average. In addition to increased profitability and reduced environmental impact, the cost reduction also contributes to safer employment conditions in uncertain times.

We also take climate responsibility when we travel - and when we do not travel. House of Control has purchased climate quotas that cover emissions on all our business trips. In recent years, we have also reduced the number of business trips and increased the use of video conferencing accordingly.
Would you like to Contact us?