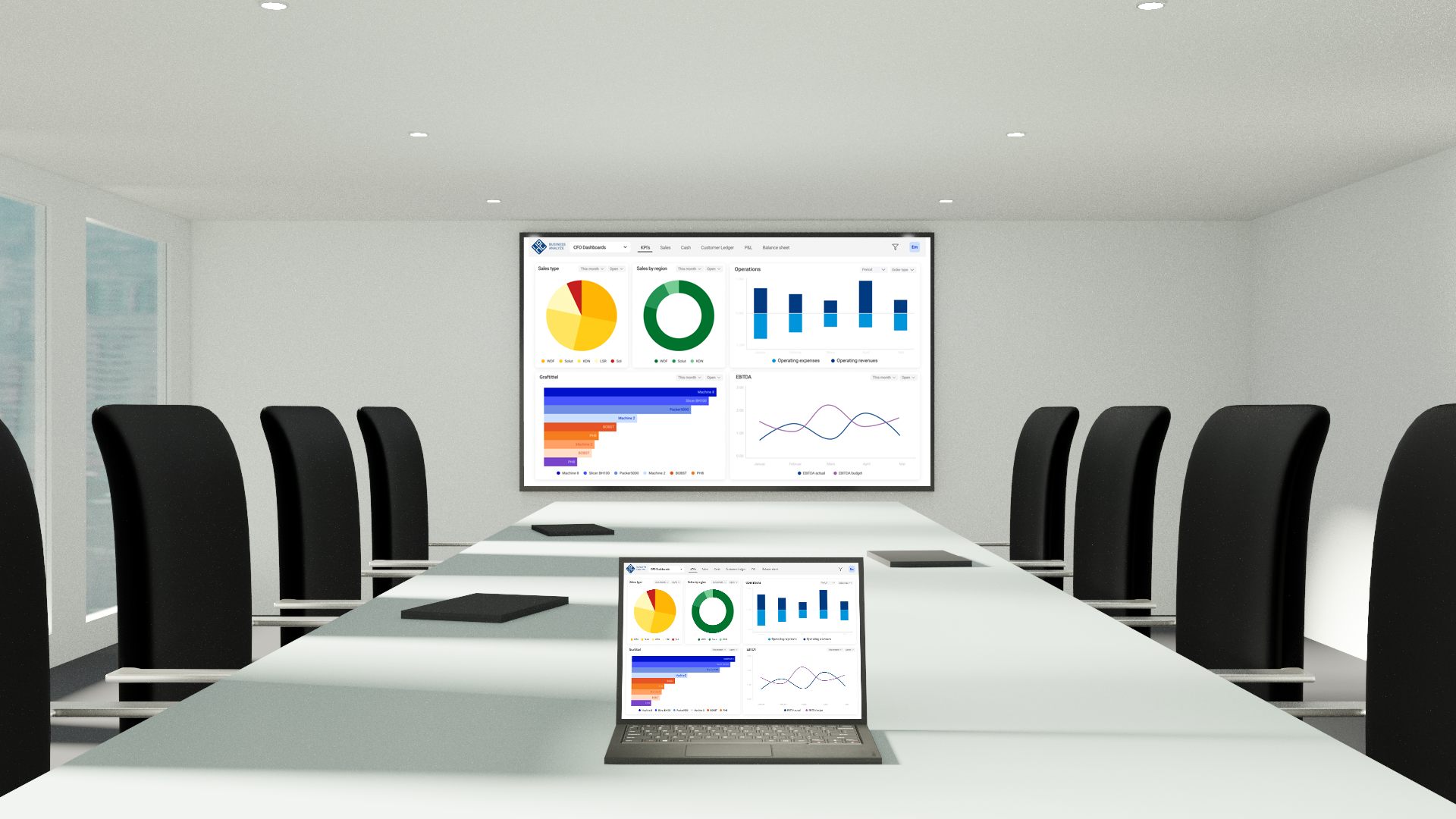 MAKE FASTER AND BETTER QUALIFIED DECISIONS
CFOs have always relied on data and analytics to make good decisions. As companies put more digital process in place, however, the need for real-time data has increased exponentially. Each transaction with customers and suppliers provides new data which CFOs can use to their advantage - as long as it is readily available.
CFO dashboards put data within reach. Instead of long and complex process - logging into ERP systems, running queries, merging fields and doing calculations - live data is processed and presented automatically.
Simply login each morning for a full overview of the financial and non-financial figures that are most important for your role - and your business.
QUICK ACCESSS TO KEY FIGURES
CFO Dashboards organize financial and operational data into one central hub. Data from various ERP modules is available in one place - enabling you click through data from company-wide totals to detailed information about each transaction.
You can monitor business health, identify potential cash flow issues, and check updated facts whenever you are making decisions. Checking ingoing and outgoing account balances and delivering reports has never been so easy.
You can also combine data from multiple databases for a complete overview of lead to cash processes. This saves not only CFOs, but the entire organization from hours of spreadsheet-frustration.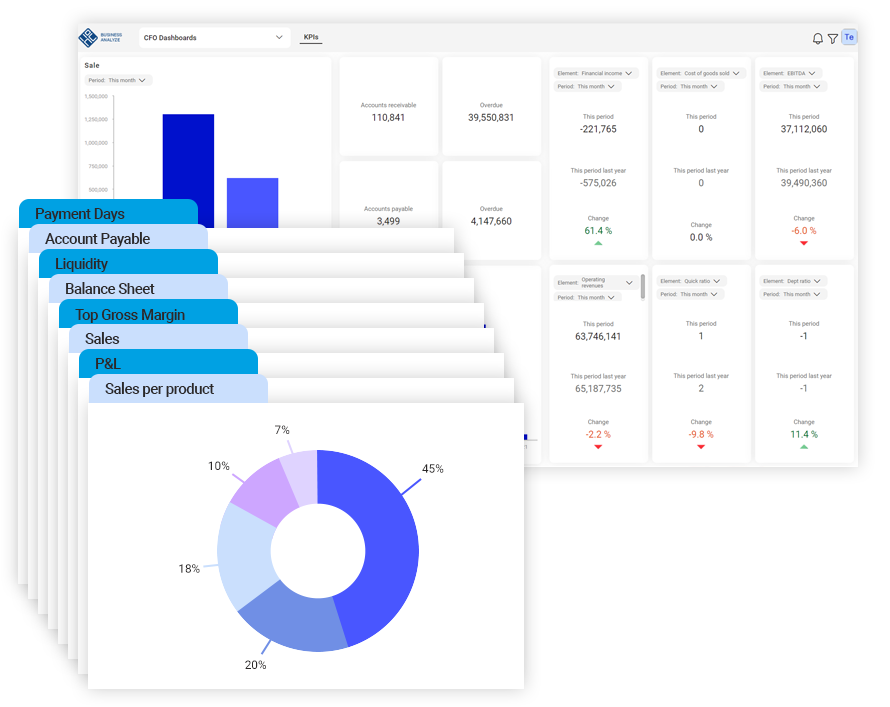 COVERS 4 KEY AREAS OF FINANCE AND OPERATIONS
CFO Dashboards are the perfect way to monitor sales and forecasts, revenues and expenses, liquidity, assets, equity, and more. Make both short and long term decisions with greater certainty and confidence.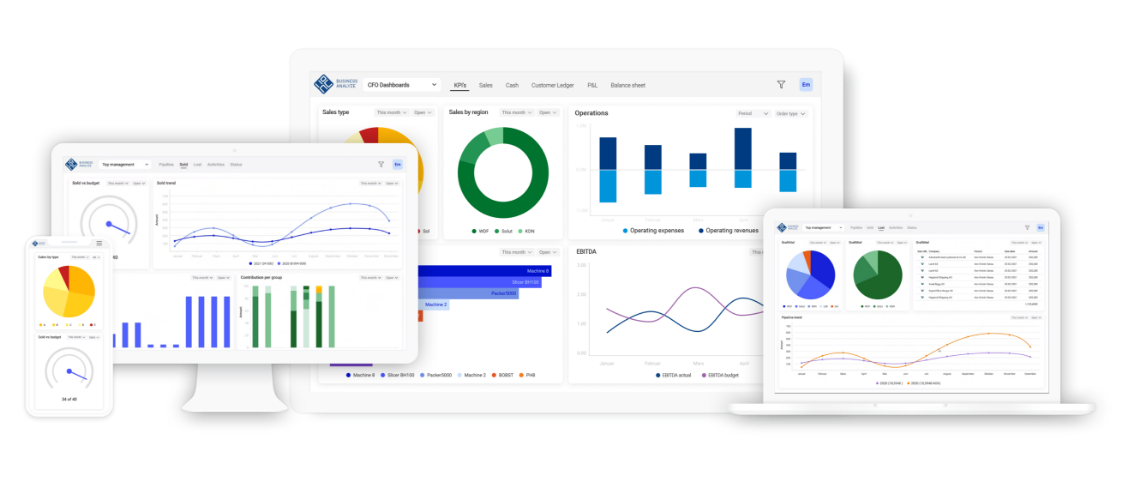 Sales
---
Revenues and volumes
Forecasts
Bookings & orders
Invoices
Profits & margins
Actuals vs. planned
Analyze sales by segment
Company, unit and individual levels
Liquidity
---
Monitor cashflow on day-to-day basis
Improve liquidity planning
Review payables & receivables
Measure collection periods
Prevent overdue accounts
Pre-calculated liquidity ratios
Pre-calculated solvency ratios
Kpis
---
Sales and orders
Invoices and DSO
EBIT & EBITDA
Current & quick ratio
Solvency
Capital structure
Efficiency metrics
Plus many more KPIs
Reporting
---
Automate financial & operational reporting
Balance sheet
Profit & loss
Variance reports
Ingoing & outgoing balance
Trend reports
Segment analysis
Get a true feel for the benefits of CFO Dashboards. Take a 10 min. tour!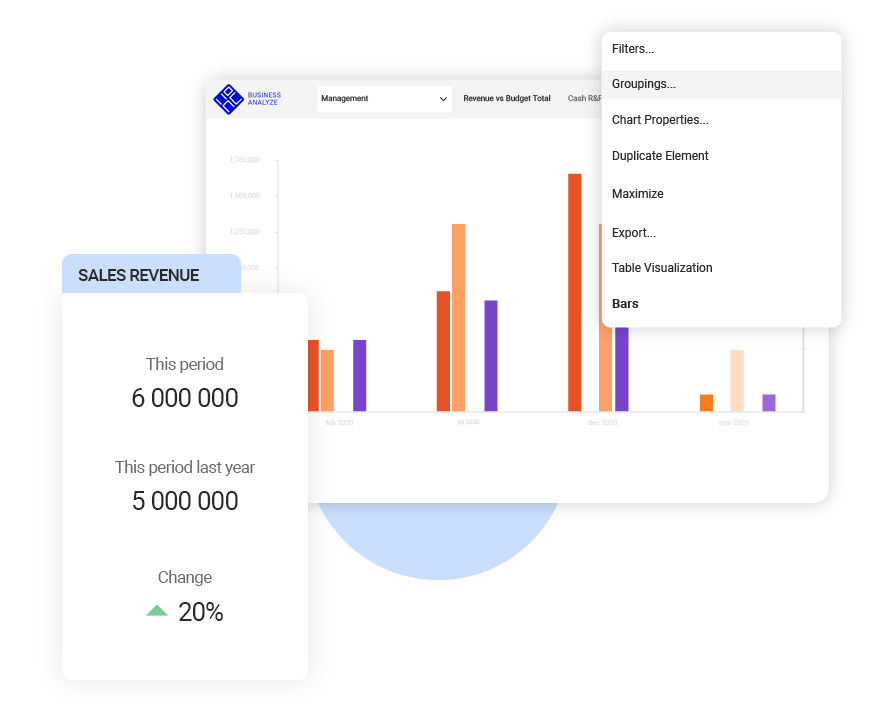 Connect to popluar Nordic ERP systems and assess information in a totally new way. Click your way through reports and gain insight into company status, trends, benchmarks and more.
If you have every struggled to monitor, measure or communicate financial performance you won't believe what a difference dashboards will make.
comprehensive set of ready-to-use dashboards

edit dashboards or create new ones on-the-fly

easy to sort, filter, group, pivot and segment data for deeper insights

add formulas and custom calculations

switch dynamically between a wide range of charts types, lists and tables

easily export data to common formats

share reports via URL or grant users access to their own dashboards

all data is organized according to Norwegian accounting standards. (Norsk Standard Kontoplan NS 4102)
POWERED BY BUSINESS ANALYZE
CFO Dashboards are powered by Business Analyze, a cloud business intelligence solution. This enables CFOs to not only access data on demand, but also take a leading role in providing executive teams and other functions with data and analytics.

Data preparation
Collect, validate and manipulate cloud or on-premise data from multiple sources.

Highly customisable
Use the wide range of pre-defined dashboards as they are, or edit dashboards to meet specific user requirements.

Unlimited dashboards
Add any number of dashboards and easily manage user access- rights.

Data Exploration
Segment and explore data with multi-level drill downs, quick filters, sorting and other functions.

Advanced reporting
Support for advanced, multi-level, multi-currency reporting on all organization levels.

Available in 5 Languages
User interface supports English, Norwegian, Swedish, Danish and German.
DO YOU WANT TO SEE YOUR DASHBOARD?
Monitor your business information and explore your own data on pre-built dashboards.

CoNNECT
Tell us what type of data you have so we can check for available data connectors. We contact you to secure data privacy as part of standard procedure.

Explore
Get access to a series of interactive dashboards Click to filter results, analyze data or change chart types.

SHARE
Securly share insights with your colleagues and help everyone work more effectively.