Do you use Effectplan or Complete Control? Would you like contract revenues and cost data to update directly into your budgets, forecasts and profit and loss reports?
If your reaction is 'yes, of course', you are in luck.
With our new integration, Complete Control (contract management system) and Effectplan (budgeting & forecasting software) work even better - together.
Instead of manually looking up key figures you need for financial planning, all your contracted revenues and costs can be pulled directly from Complete Control and into Effectplan - without any effort. That means less time on repetitive work and greater confidence that your budgets and forecasts are correct.
It's simple and effective.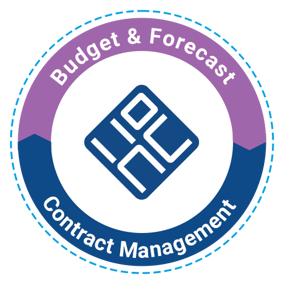 What are the benefits?
This integration has many benefits. Here are two of the most important:
#1 More accurate budgets and forecasts
With this integration you will have better foundation for budgeting and forecasting.
Your legally binding revenues and costs will be updated directly into Effectplan reports. This gives you firm control of committed income and expenses, whether that is now, for several months or years to come.
When there are changes to contracts, such as termination, renewals or revised terms, these will be reflected in each of your budget plans, forecasts and financial reports. The more plans you have, the more you benefit from automating data exchange.
This result will be greater confidence in your forecast accuracy and the figures you use to make decisions.
#2 Better control in less time
CFOs depend on a lot of data, and the amount is growing every day. Trying to manage data and manually move it between systems can be frustrating, even at the best of times.
This integration removes the friction between systems and makes data flow automatic – yet, you still have full control over when the data synch occurs and what data you want to move.
This means less time spent on data import and export, less risk of error, and faster access to the information you need.

Above: By pulling contract data directly from Complete Control, Effectplan ensue that your committed future revenues and expenses are accurately incorporated into your business plans.
How does it work?
The data transfer is straightforward. The system administrator(s) controls the basic steps which are:
Click the button for CC5 (Complete Control 5) integration from within Effectplan interface
Choose whether you want to transfer data now or schedule a time
Select what data you want
Contact details including values, period, depatments, account, currency etc. will appear like shown below: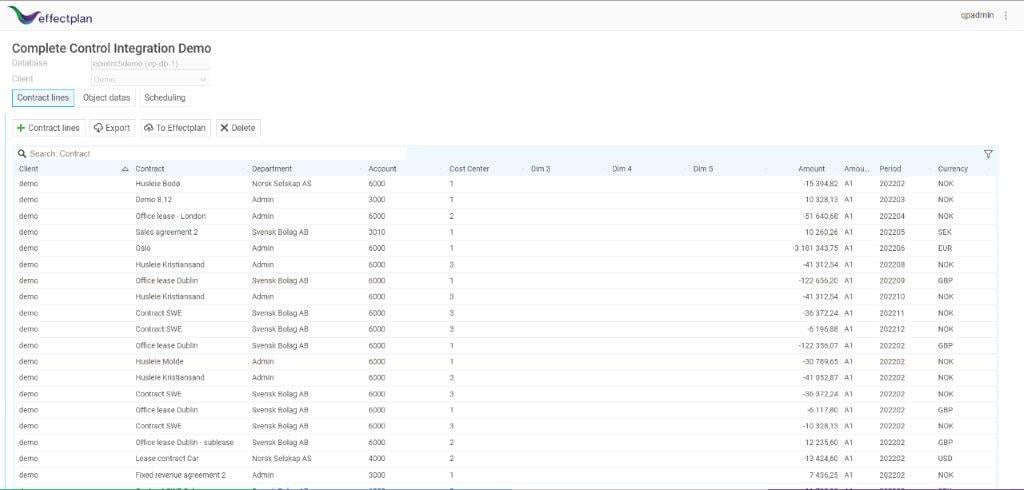 Once you have reviewed the data and make any adjustments that might be necessary, you update Effectplan reports by clicking 'To Effectplan.' Each contract will be moved into the correct reports based on cost center ID, account ID, or other parameters.
Because each item includes a unique ID, it is also easy to find the original contract data in Complete Control, should you have any questions.
Now your contract data is available with actual costs and revenues per month, quarter or other time period. This information is also incorporated into other Effectplan reports. You can adjust the figures directly into business plans as needed.
Let us help you integrate systems and simplify workflows today. Contact sales@houseofcontrol.com or your Customer Success Representative today.