HAVE A LOOK INSIDE OUR PLATFORM?
This is Why contract management matters
Control costs, time, risk - and CFO stress


Your organization has far more contracts than you realize
Contracts are unintentionally renewed without negotiations
Unnecessary costs accumulate quickly and drain profit
Lost or forgotten contracts make budgeting burdensome and inaccurate
Contract control is dependent on key personnel which represents a considerable business risk
Board members, owners and investors expect control, transparency and high performance
OUR CONTRACT MANAGEMENT SOFTWARE
Complete Control is a cloud based contract management software which gives CFOs control of the entire contract lifecycle.
Key features of Complete Control
Gather and store company-wide agreements in one place

Quickly search and find contract terms and details

Maintain complete contract history

Notify key people of important dates, terminations and renewals

Detailed reports on actual and booked values

Better visibility into payment schedules

Simple Excel import and export

Works with all ERP systems

Easy export data for budgeting and forecasting

Powerful add-ons and extra modules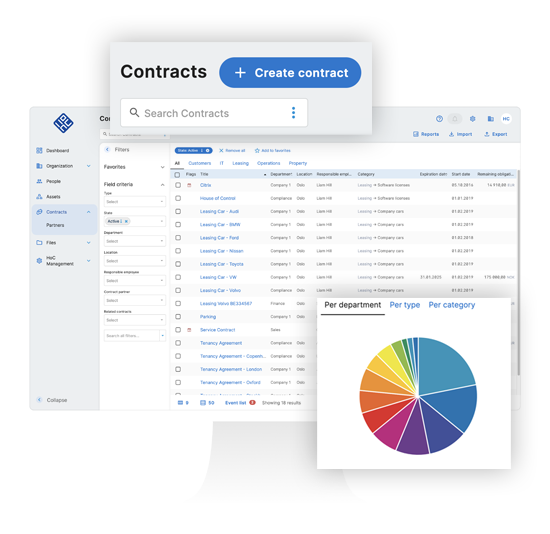 What's in it for your business
Smarter contract management improves CFO performance


Cut unnecessary costs – positive impact on the bottom line

Be prepared before contracts expire – no unnecessary breaks in service or unwanted renewals

Less dependency on key personnel

More certainty, more profit, less risk

Rapid and accurate budgeting

Enhance compliance and accounting

Well-structured due-diligence processes
Popular modules and Add-ons for COMPLETE CONTROL
Effective budgeting and financial planning software for private and public companies in all sectors.
Your central control center for analyzing, reporting and conveying key figures.
We're on a mission to make subscription management a breeze. Come along with us!
As the CFO's best friend, House of Control has developed a powerful and user-friendly solution to this problem as part of the Complete Control product range.
By digitalizing the company's authority matrix, we help you establish the respective authority levels of every employee – through a user-friendly cloud application that is available to everyone. The application shows who has the authority to do what and provides a log and searchable history of all authority level changes.
This easy ability to manage and document the Authority Matrix makes it an essential tool for the effective governance and compliance within the business. For example, an accounts receivable associate reports to an accounting manager, who reports to the CFO. If the accounts receivable system is consistently reporting erroneous information, you can then follow the hierarchy of authority to determine who is responsible for the errors.
Take a closer look at the Authority Matrix by clicking here!
House of Control supports the digital signature of contracts and other documents, in collaboration with Egreement, a leading provider of verified digital identity solutions.
Go to www.egreement.com to read more.
The Assisted Contract Registration plug-in helps you transfer your PDF-based appointments to Complete Control by reading the contents of the PDF file and creating automatic field suggestions based on it. This saves time and minimizes user errors.
Via the additional module Assisted Contract Registration, you also get access to even more fields in the Document Search. The module searches for people, organization names, headings and dates in PDF files using machine learning.
Assisted Contract Registration also provides access to the Inbox feature in Complete Control. Here you can receive emails creating contracts directly from the email entry in Complete Control. The PDF file from the email is included in the agreement as an attachment.
New EU rules are strengthening the governance requirements for how banks and other financial institutions handle outsourcing of financial technology (fintech). This includes requirements for a central register of all contracts with sub-service providers.
The starting point is "Guidelines on outsourcing arrangements" (EBA/GL/2019/02) issued by the European Banking Authority (EBA), which forms the basis for national regulations. The rules will apply throughout the EU and EEA, including in Denmark, Sweden and Norway.
Our EBA module is customized to meet the challenges financial institutions face with regard to documentation, administration, follow-up and maintaining an overview – including timely notifications of relevant deadlines.
Several banks are already using Complete Control to meet these requirements.
The Integration module deals with contract price adjustments, and is fully integrated with Statistics Norway. It means that you can plan expenses and revenues much more accurately.
Tables are extracted from Statistics Norway, including Norwegian, Danish, Finnish and Swedish indices going back as far as 1900. This function saves you time and provides excellent data for invoicing. The module automatically adjusts prices in accordance with specified indices, and you can even be notified of price index changes if you wish. The module includes reports in Excel of all planned and historic changes.
The module structures employee competences, including mandatory training and certifications. It provides notifications when new training is due or certifications about to expire. It also includes an archive for any kind of contracts related to individual employees.
The Competence module provides a clear and easy overview of any certificates that are due to expire, qualifications that are required for a job title, photos of employees, unique search tools for qualifications within the company, CV exports with an option of what information to include, file attachments for employees, etc.
The Advanced Notification Centre allows you to customise automatic notifications. Proactive notification is a cornerstone of Complete Control's standard system, but this module gives you an even more advanced options for notification configuration.
It can provide you with notifications of every type of contract and liability, and keep track of employees, assets, indices, etc. For example, whether when prices are due to be adjusted, or whether employees' qualifications (licences, courses, certificates) are about to expire. In other words, every possible deadline about which it might be useful and important for a company to receive automatic notifications.
House of Control has developed a module for full control of the company's financial leasing contracts. Here, the CFO gets full control of all key data in the leasing contract, including price, term and notice period. It is a module that provides very fast and precise data to the accounts, and which also provides very good reporting opportunities.
A lost computer can be disastrous – insurance only covers the machine itself, but any lost work or data cannot be replaced.
Security labels on assets and equipment reduce their resale value, and make the equipment less attractive to thieves.
Staff are much less likely to "forget" to return equipment that they have borrowed if it is labelled. Your administrator also has an up-to-date overview of which machines are being used by individual employees.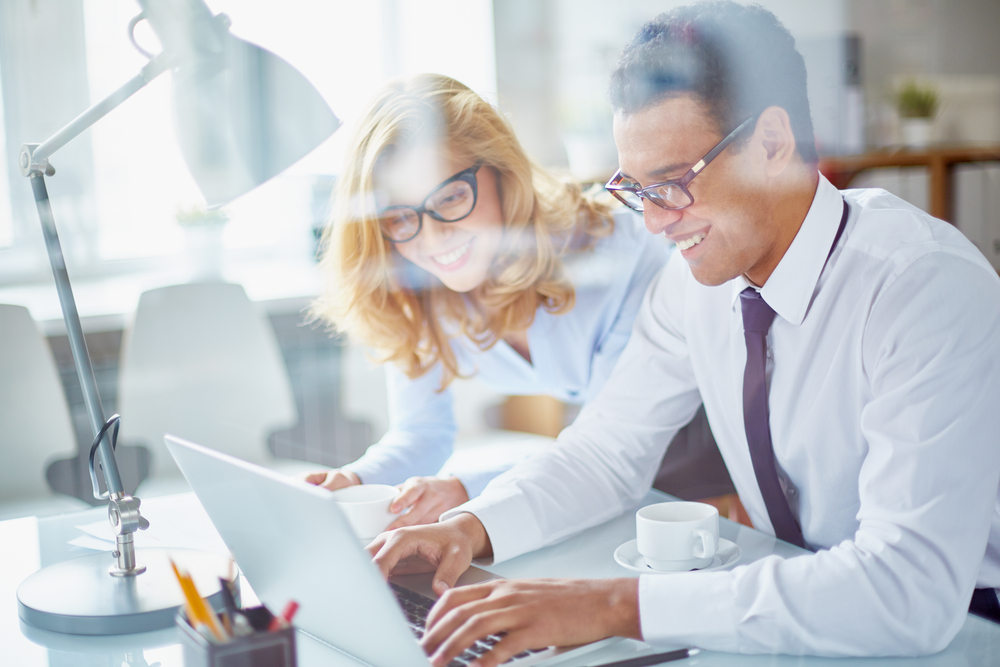 How a contract is registered in complete control
Type of contract: Is signed with a supplier, a customer or another partner?
Contract partner: Information about the company, important contacts and documentation (ISO, certificates and confirmations).
Status contract: Is it active, inactive, under renegotiation or terminated?
Department: Where in the business does the contract belong - level, location, cost center?
Related contracts: For example, facility services and electricity connected to a particular office rent?
Related assets: For example, what is the registration number of a leased car?
Start date, expiration and notice period
Payment plan: Cash flow out during the contract period.
Category: Information for linking the contract to finance and accounting
Responsible person: Who is the contract owner?
Signature: Who signed the contract?
Comments and attachments