Does this sound familiar?
You work hard to negotiate framework agreements with suppliers that can win your company large rebates, give huge cost savings and add to your bottom line. Then it turns out – way too often – that the hard work done does not give you the benefits intended:
The agreements are not easily available to employees

Employees purchase from other vendors

You don't get the agreed terms

Purchase orders are lacking

Invoices need to be handled manually – time-consuming and expensive

Too many hours are spent managing the suppliers and the range of products
Recently, we spoke to a large corporation where only a quarter of their annual € 1 billion purchases are managed according to existing framework agreements. Another client enters into more than 100 new framework agreements every month.
These pain-points are expensive: First, you lose the rebates you would have achieved if the organization purchased from the right vendors. Second, your organization spends too many resources managing procurement – not counting the negative value of stress and justified frustrations.
How much can your business save? Test our ROI calculator!
it's time to transform your procurement process
Imagine a web shop set up for your employees (with your company's look and feel) that…
offers every item you want and nothing that you don't.
offers only the best possible prices.
is always up to date with product information and downloadable product data.
only offers products from suppliers you approve of.
shows you the best possible delivery lead-times for everything.
In addition to all that, what if the web shop automatically does all the paperwork for you? Including…
the invoice is raised against a matching purchase order.
both those documents are automatically added to your finance and accounting systems.
documents are approved by the right people, with the correct authority level at the right time.
all of those approvals are recorded and easily accessible later if needed.
Would it not be handy if the webshop enabled your suppliers to access all the status updates they need about their invoices? And, imagine that the webshop lets the suppliers update all their product and company information themselves – so you don't have to.
The effect? Your colleagues would spend no time responding to supplier requests. Instead, they can focus on tasks that matter most to your business, safe in the knowledge that the purchase to pay process is always working as it should, with up to the minute status available on every purchase. Also, you would have all procurement information available to all other functions as required, whether it be availability, delivery, finance, stock, or any other aspect of the business that needs it.
Or, if you don't want to have a web shop that includes all framework agreements, what if your employees went into the vendor's web shop, got the agreed terms, and then brought the shopping cart back to your own portal? (PunchOut)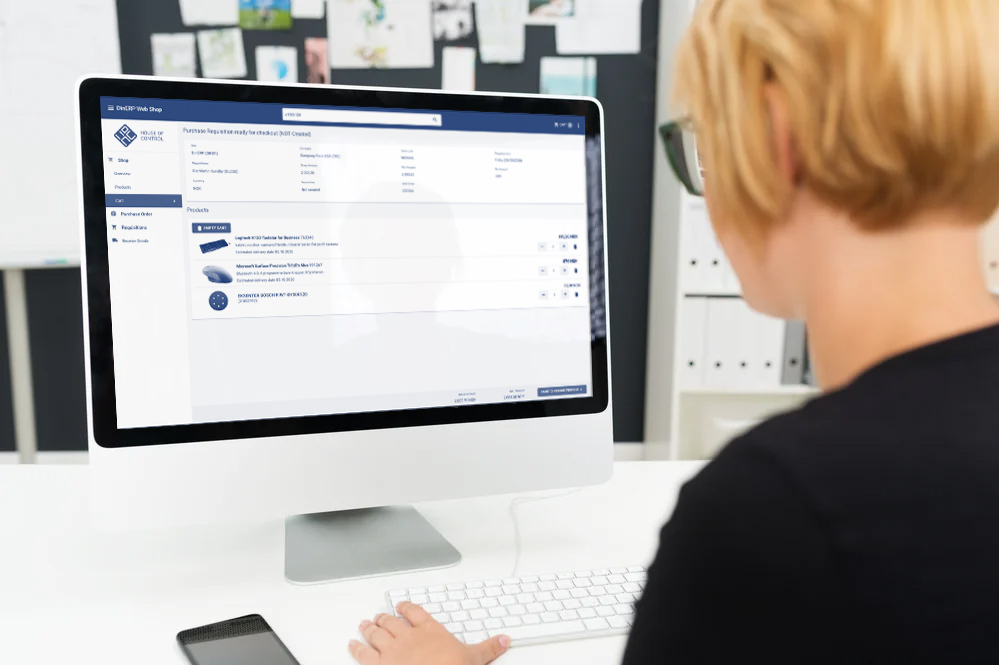 The solution has a name
Well, you don't have to imagine it, because it exists and is already available from House of Control.
It's called Complete Procure and it totally transforms your procurement process with a webshop that includes Catalogue Management with PunchOut functionality, fast search capabilities, and a workflow that is familiar to everyone. With Complete Procure your suppliers can import their catalogues and easily update their information, and the webshop only offers the products you have actually approved.
Complete Procure integrates seamlessly with any ERP system. The Purchase to Pay process is fully automated, reducing the time your employees spend on it whilst ensuring data is always accurate and up to date. It automatically feeds your ERP system with the information it needs when it needs it – so you don't have to.

It also perfectly compliments the Complete Control Supplier Portal and Complete Control Supplier Invoice products, which when used together provide a fully integrated, automated 'end-to-end' digital solution that covers the entire Purchase to Pay process of the business.
It's a game-changer and it's available now. Book a demo today and see the future of Procurement for yourself!
Features of Complete Procure
WebShop with search, filtering and shopping cart corresponding to online stores in the private market
Own module for catalogue import and management
PunchOut support
Integration with ERP
Creation of purchase request from the shopping cart
Access control based on selected criteria – e.g. purchasing agreements and purchasing categories
Advanced and fast search
Customer benefits
Better utilization of the framework agreements
Lower purchasing costs
Good link between purchasing and the finance / economics process
More efficient and precise invoice management
Lower costs, fewer errors
Seamless use of external online stores (PunchOut)
Better user experience, less administration, satisfied suppliers
No integration job (in contrast to external purchasing system)
No administration of "IFS procurement" (very heavy process)
Reduction of costs, less dependence on core personnel
Lower risk, reduced costs, easy maintenance
Questions regarding our solutions?
Want a live demo?
Leave your e-mail, phone number and a note - and we will contact you shortly!